Jura Z10
local_shippingFREE shipping for all orders over R650
 Jura Z10 Our Offer Includes: 1. Free Nationwide Delivery 2. Free installation and training by our Jura specialist(Gauteng only) 3. Free 1 Liter Cool Control 4. 1 kg of coffee  Specifications: 32 Pre-programmed selections  Cold Extraction - (for making cold brew coffees) 10 Coffee Strengths 3 Brewing temperature levels 10...
 Jura Z10
Our Offer Includes:
1. Free Nationwide Delivery
2. Free installation and training by our Jura specialist(Gauteng only)
3. Free 1 Liter Cool Control
4. 1 kg of coffee 
Specifications:
32 Pre-programmed selections 
Cold Extraction - (for making cold brew coffees)
10 Coffee Strengths
3 Brewing temperature levels
10 Milk temperature levels
Fully programmable to your taste
Product Recognition Grinder with automatic adjustment
Intelligent Water System
4.3" Touch screen colour display
Automatic cleaning cycles
2.4 litre Water Tank
280g bean Hopper
Height Adjustable Spout
Wi-Fi Connection standard
For full Specs

 

 here
A world first:
A masterpiece of Swiss engineering, the new Z10 doubles the range of speciality coffees. At the touch of a button it prepares the full spectrum of hot drinks from intense espresso to on-trend flat white. It also opens up a whole new dimension in the enjoyment of coffee with the introduction of cold brew specialities. This is made possible thanks to the Product Recognising Grinder (P.R.G.), which recognises the chosen speciality and instantly and precisely adjusts the fineness of grind accordingly.
 In addition, JURA has developed the pioneering Cold Extraction Process – a quite literally refreshing top innovation. In this process, cold water is slowly pulsed through the freshly ground coffee under high pressure. The result is a completely new way of experiencing coffee – refreshing, energising and with a wonderfully balanced aroma. 
This outstanding premium coffee machine features a double-speed 4.3" touch display and the Blue Crystal Rotary Switch. Thanks to the Speciality Selection menu and artificial intelligence, it's exceptionally easy and intuitive to use. The technology quantum leap is also reflected in the sculptural design. The convex-concave front panel is visible proof of attention to detail and absolute manufacturing precision. Its high quality makes the Z10 a statement of excellent taste.
The new Product Recognising Grinder (P.R.G.)
To ensure the optimum grind for every speciality, JURA engineers developed the Product Recognising Grinder (P.R.G.). The electronically controlled high-performance grinder adjusts in a fraction of a second to the predefined consistency of grind – much more quickly and frequently than could be done manually. Its spectrum ranges from very fine for short classics to very coarse for long specialities. But coffee lovers don't need to worry, because the adjustment takes place automatically every time a beverage is prepared and, if preferred, can also be individually selected before each preparation with the Aroma Selection feature.
Cold brew – extreme freshness
Thanks to the Cold Extraction Process, the Z10 prepares genuine cold brew specialities. While many conventional cold coffee drinks consist mostly of hot-brewed coffee which is then chilled, in the Z10 extraction takes place with cold water, pulsed at high pressure, and more coarsely ground coffee. The end result is a natural, energising and refreshing beverage in which the fruity aromas of the coffee can be fully enjoyed without being overwhelmed by bitters. Anything else would just be a cold coffee.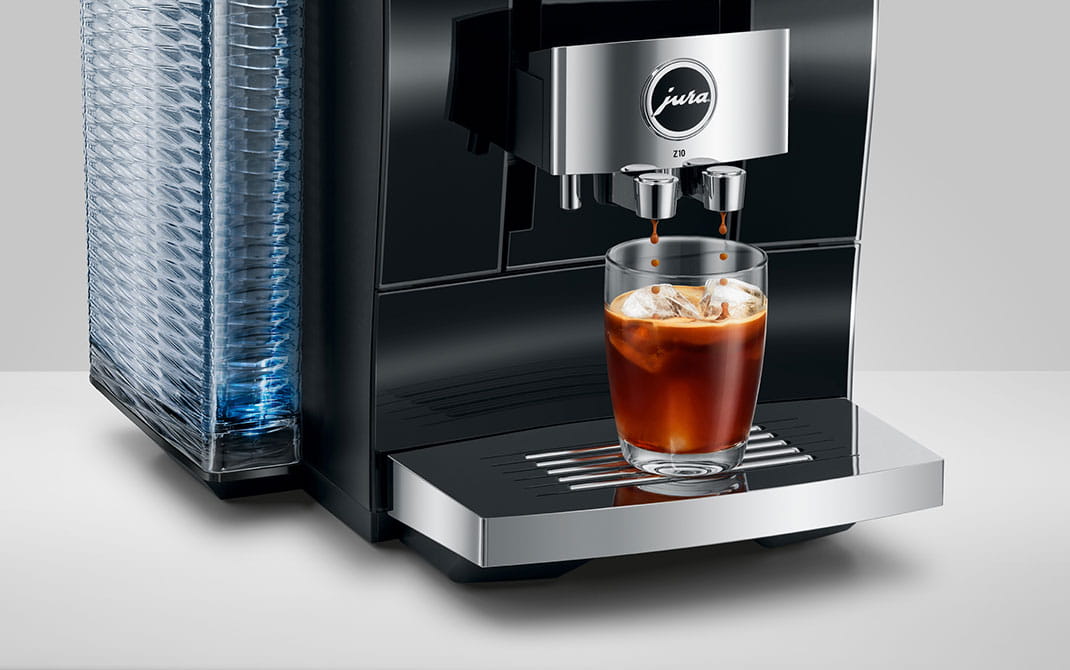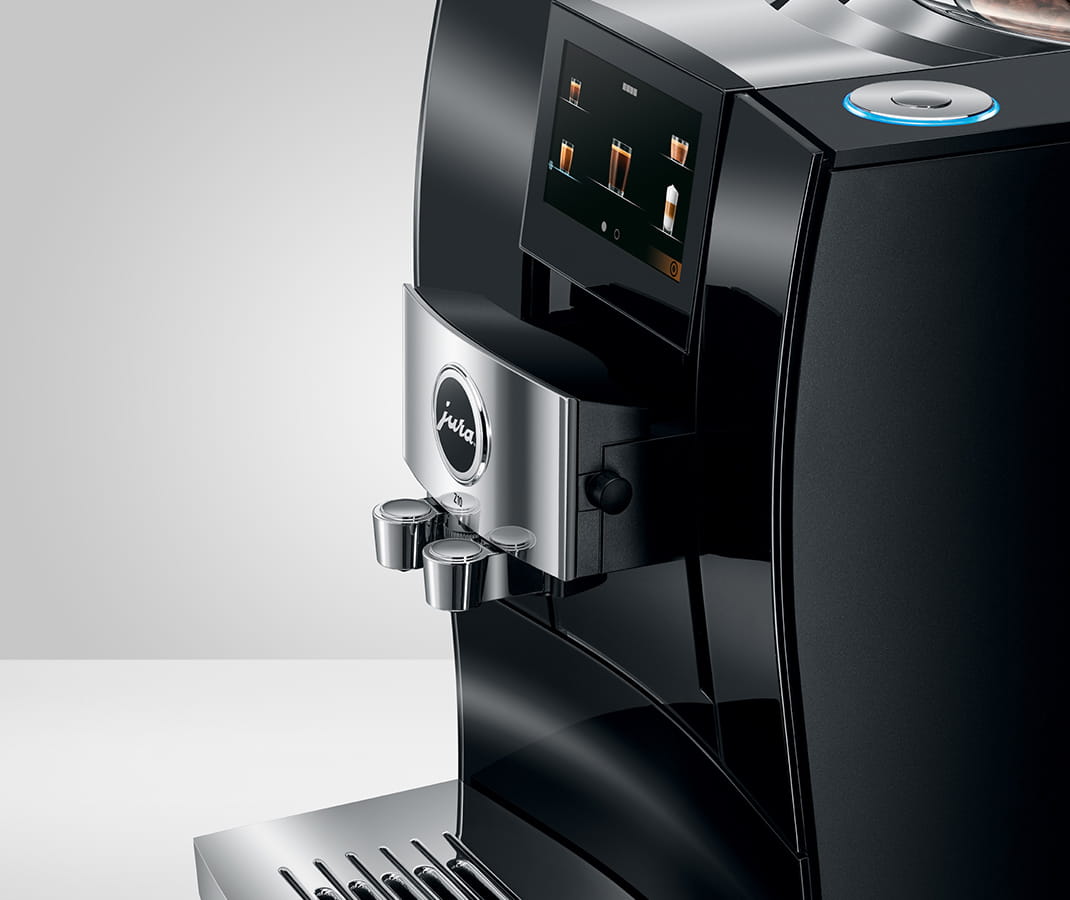 Lasting elegance
Design and the careful choice of materials play an important role in product durability. JURA always strives to achieve a design that people will be proud to own and that will still look fresh and modern after many years. Uncompromising quality, durable, high-quality materials and maximum engineering precision guarantee both culinary and aesthetic excellence throughout the lifetime of the machine. The complex convex-concave aluminium front panel demonstrates the very highest standard of craftsmanship. The water tank with its elegant wave design and the harmonious filter casing are just two examples of the attention paid to what might seem like small details. As soon as you touch the Z10, you sense what true worth means to JURA.
Full Specifications:


Shipping policy
All our deliveries are handled by a third party courier company.
Once a package is collected from our premises we have no control over delivery times, delays and cannot make any special arrangements with the couriers.
Please ensure that you provide the correct contact details and delivery address when placing the order.
Please ensure that there will be someone to accept the package on your behalf at the address provided, during working hours.
Our couriers do not deliver over weekends.
Please note that orders are not processed over weekends.
Orders are processed the first working day after your order was placed.
We attempt to ship all packages within 24 hours after receiving orders.
We strive to deliver your order as soon as is possible but do not guarantee specific delivery times.
Refund policy
Did we make a mistake?
Please accept our sincere apologies. In the unlikely event of this happening please contact us immediately on info@heavenlycoffees.com
with your order nr and a short description of what the problem is.
We will contact you as soon as possible and make arrangements with you to correct the problem.
If you bought a coffee machine from us with you are experiencing a problem, please rest assured that the item is covered under the manufacturers warranty and
whatever is wrong with the machine we will get it fixed!